A WHOLE NEW DINING SENSATION
BAO DOWN WITH EXTRAORDINARY FOOD AND OLD SCHOOL AMBIANCE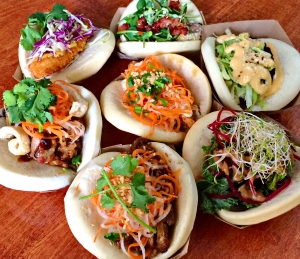 Rich flavour with exotic spices and garnish to splendor your taste buds. Savor into our authentic one of a kind recipes, never before experienced in Vancouver.
Taking the best of the Orient and West Coast culinary delight. Blending the exquisite flavours that each lineage brings. Masterfully crafting their unique nuances of savor into a single experience that brings to your taste buds the world of exotic blending of foreign and local zest.
Come and experience it for your self!
NOW OPEN OLYMPIC VILLAGE
BAO DOWN GASTROPUB + RAW BAR
We are pleased to announce the grand opening of our Olympic Village Gastropub + Raw Bar location at 115 West 2nd Avenue Vancouver. Join our Bao Down Ninjas for a food experience on a whole new level of flavour and experience. .
FOOD SPECIAL
GASTOWN

BAO DOWN ANNOUNCES FLY HAWAIIAN POKE BOWLS. BRINGING HAWAIIAN FLAVOURS TO YOUR DOOR STEP. AVAILABLE NOW.
STUDENT PROMOTION
GASTOWN
BAO DOWN SUPPORTS STUDENTS. SHOW YOU ID AND GET 10% DISCOUNT AND SHARE THE LOVE
MOONSHINE
NOW SERVING YOUR FAVOURITE LIQUOR TILL CLOSE
LIBATION
PURE COCONUT JUICE WITH YOUR BAOS, SIMPLY PERFECT
OUTDOOR EXPERIENCE
PATIO DINING AND LOUNGING NOW IN FULL EFFECT
POWER IN THE HOUSE
USB CHARGING STATIONS FOR YOUR POWER NEEDS